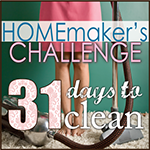 Not sure if you have heard of
31 Days to Clean
but is a ebook/PDF about "Having a Martha House a Mary Way". This is based on Luke 10:38-42
38
As Jesus and his disciples were on their way, he came to a village where a woman named Martha opened her home to him.
39
She had a sister called Mary, who sat at the Lord's feet listening to what he said.
40
But Martha was distracted by all the preparations that had to be made. She came to him and asked, "Lord, don't you care that my sister has left me to do the work by myself? Tell her to help me!"
41 "Martha, Martha,"
the Lord answered,
"you are worried and upset about many things,
42 but few things are needed—or indeed only one.[a] Mary has chosen what is better, and it will not be taken away from her."
I don't know about you but I have a hard time not just keeping my house clean but doing it for the right reasons. I need to have the right motivation for cleaning my house and I am hoping to find it as I go through this book. Every day there are Martha challenges that involve actual cleaning and then there are Mary challenges that challenge your way of thinking. I started this once before but had a hard time with the Mary challenges. Then I restarted it with the new Martha challenges that help with routine cleaning. I did well with that for quite awhile until summer came. I figure now is a great time to start again and this time I going to sign up with a group to hold myself accountable.
A new website
The Homemakers Challenge
is staring the 31 Days to Clean on September 1st and I joined up. I plan on writing a post weekly about how things are going - maybe even with some before and after pictures to keep it real. I want to be honest about my house and my heart. So, if you would like to join head on over and sign up. If you are not a blogger then just join up in spirit and come and read the posts Monday -Friday. They are not doing any of the challenges on the weekends which I really like! So as Sarah Mae - author of 31 Days to Clean says....
"Journey with me for 31 Days as we get our homes and our hearts in order. Give me 31 days and I'll give you not only a cleaner home, but a vision for one."